*Enkele functies of componenten kunnen afwijken van de getoonde exemplaren vanwege beschikbaarheid.
Wayfarer M9 Mid-Drive Crossbar: Stad, Avontuur, Bergen
De Wayfarer M9 door Wisper mid-drive, de crossbar is de perfecte alleskunner. In stadspecificatie is het een comfortabele woon-werkverkeer fiets of dagelijkse werkpaard, maar onder het stadsuiterlijk klopt het hart van een echte volbloed, de superkrachtige Wayfarer motor met 100Nm. Strip de comfortproducten af en verander de banden en je hebt de perfecte off-roader voor een dag in de heuvels en bossen. Als je meer hulp nodig hebt, aarzel dan niet om contact met ons op te nemen.
Technische Specificatie
Motor
Wisper Super Hi Torque (100Nm) Mid Drive 43.2V 250W Nominale
Lithiumbatterij
In frame, veilig verwijderbaar. Oplaadbaar in of uit het frame
Aan/uit-knop met LED oplaadstatuslampje.
Standaard 450Wh
Lange afstand 700Wh
Geassisteerde reikwijdte
450Wh Max Bereik = 60 miles (95km)
700Wh Max Bereik = 90 miles (140km)
Bediening
Wisper Achtergrondverlicht LCD-display met afstandsbedieningen
Duimbediening tot 4mph (6km/h) lopen langs
Duimbediening tot 15.5mph (25km/h) assistentie booster
Fietsgewicht
450Wh: 27kg
700Wh: 29kg
Frame
Hand gelast, 6061 Legering T4 en T6 gehard

Framemaat
18" 48cm
Framekleur
Iridium Zilver 6 lagen
Vorken
Suntour XCM 32 100mm travel, door as
Sturen
eMTB 760mm geanodiseerd zwart
Stuurpen
Magix zwart geanodiseerd 70mm
Zadelpen
31.6mm 350mm met 100mm veiligheidslijn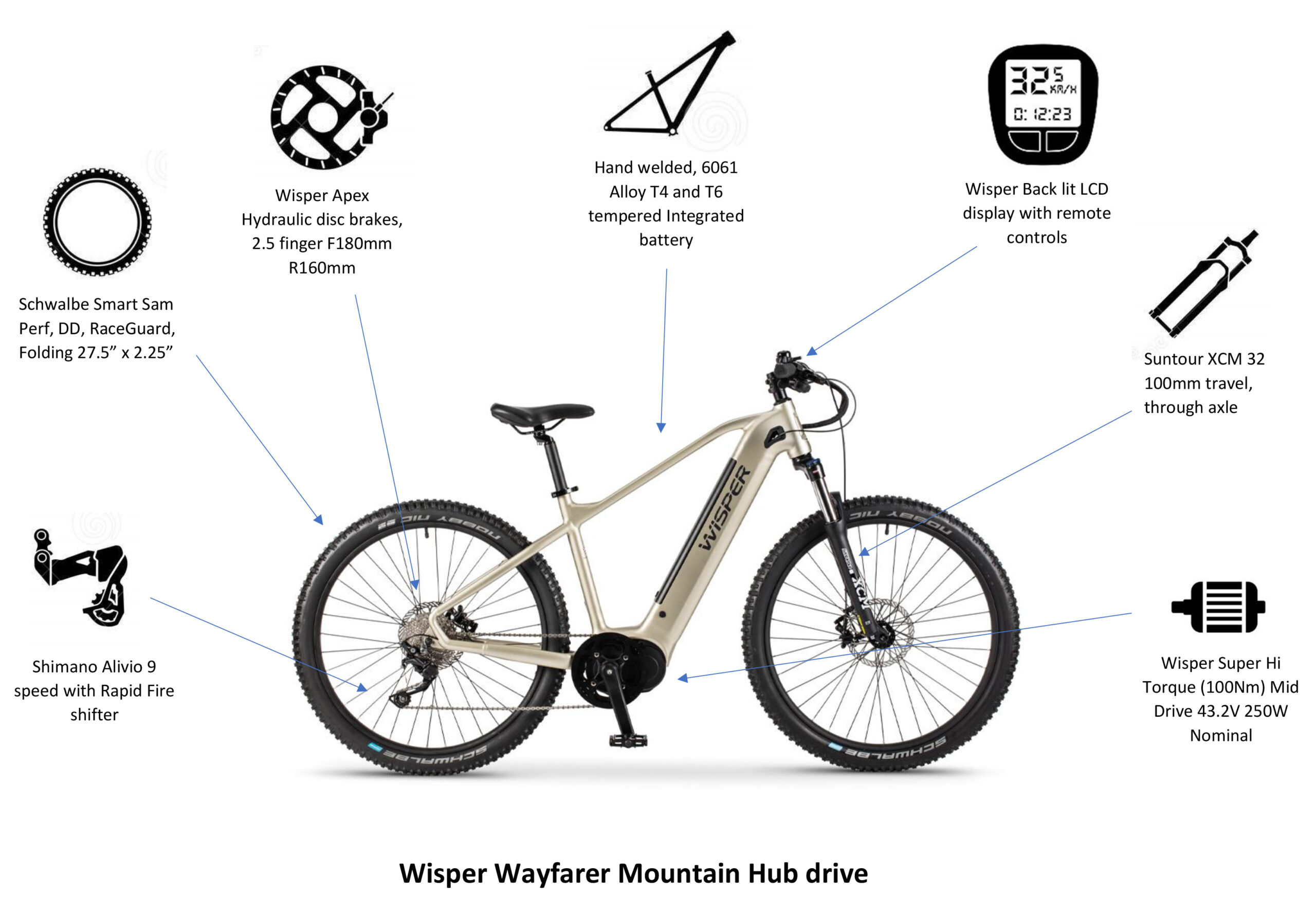 Zadel
Wisper Comfort, eBike met zadelhandvat
Kickstand
Zwart geanodiseerde legering
Versnellingen
Shimano Alivio 9 snelheid met Rapid Fire shifter
Ketting
KMC X9 roestbestendig 9 snelheid
Kettingaandrijving
44t Achter
Vrijloop
11 to 36
Pedalen
Legering
Remmen
Wisper Apex Hydraulische schijfremmen, 2.5 vinger F180mm R160mm
Wielen
Legering zwart geanodiseerd dubbelwandig 27.5″ x 1.24″ (31.4mm)
Banden
Kenda 27.5″ 2.2 hoge lekbestendigheid met reflector
Avontuur/MTB Fietsband Upgrade (optionele extra)
Schwalbe Smart Sam Perf, DD, RaceGuard, Vouw 27.5″ x 2.25″ Eersteklas allrounder met extra veilige Double Defence lekbescherming 3mm GreenGuard laag, SnakeSkin zijwand. ECE-R75 goedgekeurd voor geweldig rijplezier op je eMTB of E-Adventure Bike. Wayfarer velgen kunnen banden tot 2.25″ breed nemen zonder vorken of frame te belemmeren. Banden van meer dan 2.25″ kunnen alleen zonder spatborden worden gebruikt.
Spatborden
Zwart Geanodiseerd Aluminium 2.6″
Verlichting
Voor: Spaningo XE 6V gevoed van fietsbatterij
Achter: Spaningo XE 6V gevoed van fietsbatterij
Achterdrager
Wisper geïntegreerd maatwerk, 17kg limiet
Voordrager (optionele extra)
Wisper geïntegreerd maatwerk, 10kg limiet
Max Gewicht Lading Incl. Bagage
21st 135kg
Afmetingen en Maatvoering