*Sommige kenmerken of componenten kunnen afwijken van de weergegeven afbeeldingen door beschikbaarheid.
Stap-Door Middenaandrijving (M7): Stad, Avontuur
De Wisper Wayfarer M7 is de stalgenoot van de M9-versie met dwarsbalk, het zeer stijve frame is perfect voor de rijder die echt om comfort geeft, maar uitstekende controle wil. In stadspecificaties is het een comfortabele forenzenfiets of alledaagse werkpaard, maar onder het stedelijke uiterlijk klopt het hart van een echte volbloed. Verborgen ontwikkelt de Wayfarer super hi-koppel motor 100Nm. Strip de comfortproducten en verander de banden en je hebt de perfecte off-roader voor een dag in de heuvels en bossen. Als u verdere assistentie nodig heeft, aarzel dan niet om contact met ons op te nemen.
Technische Specificatie
Motor
Wisper Super Hi Koppel (100Nm) Middenaandrijving 43.2V 250W nominaal
Lithiumbatterij
In het frame, veilig verwijderbaar. Oplaadbaar in of buiten het frame
Aan / uit-knop met LED-oplaadstatuslampje.
Standaard 450Wh
Lange afstand 700Wh
Ondersteunde reikwijdte
450Wh Max Bereik = 60 mijl (95km)
700Wh Max Bereik = 90 mijl (140km)
Bedieningselementen
Wisper achtergrondverlicht LCD-display met afstandsbedieningen
Duimgas tot 4mph (6km/h) loop mee
Duimgas tot 15,5 mph (25km/h) assist boost
Fietsgewicht
450Wh: 27kg
700Wh: 29kg
Frame
Handgelast, 6061-legering T4 en T6 getemperd
Framemaat
17.5" 44.5cm
Framekleur
Iridium Zilver 6 lagen
Vorken
Suntour XCM 32 100mm reis, door as
Staven
635mm teruggetrokken geanodiseerd zwart
Stuurpen
Magix zwart geanodiseerd 110mm verstelbaar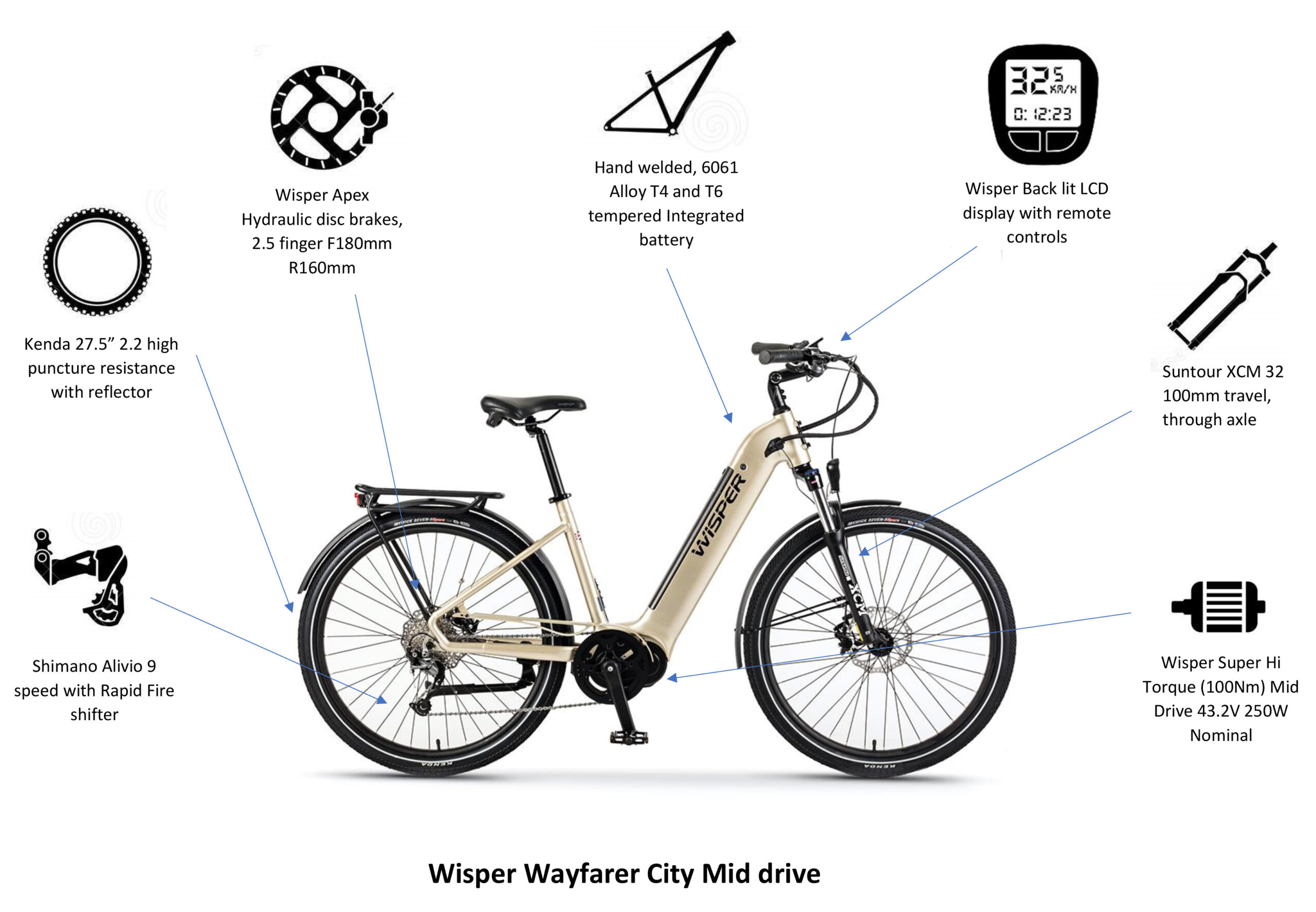 Zadelstang
31.6mm 350mm met 100mm veiligheidslijn
Zadel
Wisper Comfort, eBike met zadeltrekhandvat
Kickstandaard
Zwart geanodiseerd aluminium
Versnellingen
Shimano Alivio 9 speed met Rapid Fire shifter
Ketting
KMC X9 roestbestendig 9 speed
Kettingaandrijving
44t achter
Vrijwiel
11 to 36
Remmen
Wisper Apex Hydraulische schijfremmen, 2.5 vinger F180mm R160mm
Wielen
Aluminium zwart geanodiseerde dubbele wand 27.5" x 1.24″ (31.4mm)
Banden
Kenda 27.5" 2.2 hoge lekbestendigheid met reflector
Upgrade Adventure Bike Tyre (optioneel extra)
Schwalbe Smart Sam Perf, DD, RaceGuard, Opvouwbare 27.5" x 2.25" Eersteklas allrounder met extra veilige Double Defence lekbescherming 3mm GreenGuard-laag, SnakeSkin zijwand. ECE-R75 goedgekeurd voor veel rijplezier op je E-Adventure Bike. Wayfarer-randen kunnen banden tot 2.25″ breed nemen zonder vorken of frame te belemmeren. Banden van meer dan 2.25″ kunnen alleen worden gebruikt zonder spatborden.
Mudguards
Zwart geanodiseerd aluminium 2.6″
Verlichting
Voor: Spaningo XE 6V gevoed vanaf fietsbatterij
Achter: Spaningo XE 6V gevoed vanaf fietsbatterij
Achterdrager
Wisper geïntegreerde aangepaste, 17kg limiet
Voordrager (optioneel extra)
Wisper geïntegreerde aangepaste, 10kg limiet
Max. Gewichtsbelasting incl. Bagage
21st 135kg
Afmetingen en maatvoering