Why Choose a Crossbar E-Bike?
With a more familiar frame geometry, Wisper's range of Crossbar E-Bikes offer a reliable and robust ride whether on the daily commute, popping to the shops or exploring rugged terrain on a long country ride. The result is an industry leading electric bicycle with a choice of three batteries, allowing you to tailor your E-Bike to the requirements of your own lifestyle. Our leading brushless motor technology multiplies the power you apply to the pedal, conserving your own energy and enabling you to cover a far greater distance in style and comfort.
Crossbar E-Bikes gives a power-assisted alternative to traditional cycles and offer a fantastic introduction to cycling for anyone seeking improved fitness and the freedom to explore. The traditional crossbar frame construction is synonymous with touring e-bikes, opening up the great-outdoors for everyone to experience. Whether you are new to the saddle, or simply want greater enjoyment from your journey, our industry-leading brushless motor technology shares the burden, allowing you to ride further and explore more. Wisper's range of Crossbar electric bicycles can also accommodate panniers, making shopping trips and country picnics accessible to all.
If you are looking for a more enjoyable way to travel, our industry-leading range of Crossbar E-Bikes provide a robust and capable companion, wherever your journey may take you. If you want to ditch the car because you're fed up with being stuck in traffic, want a greener form of transport, or simply want to be able to cycle longer distances with ease, the Wisper Crossbar range will meet your needs.
Wisper's superior battery technology means that recharging is simple, so you can be free to enjoy the great outdoors with a reliable electric bicycle that shares the exertion and enhances your enjoyment
WILDCAT CARBON EMTB
FULL SUSPENSION
The Wisper Wildcat C is the ultimate ride for the serious mountain
biker. The unique UD carbon frame gives an effective balance
between power transfer and comfort when it comes to tearing up
the trails as it comes with all the latest technology available.
AVAILABLE FROM JUST £3,999.00BUY NOW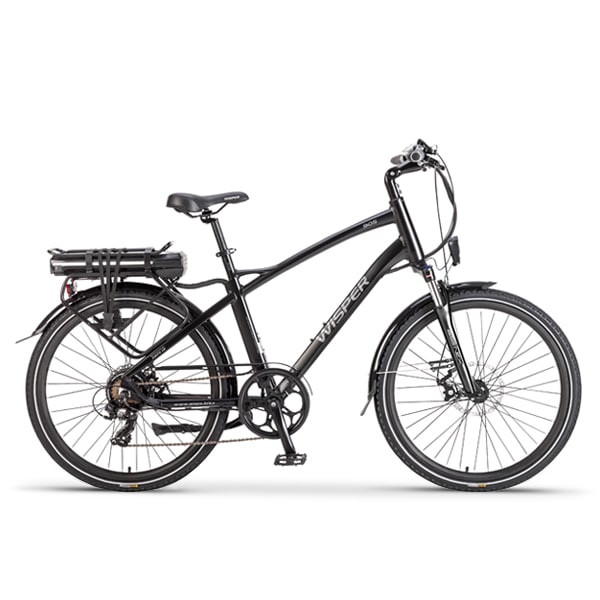 WISPER 905
CROSSBAR E-BIKE
The 905 has a unique frame
with greater rigidity for a stiffer and
more responsive ride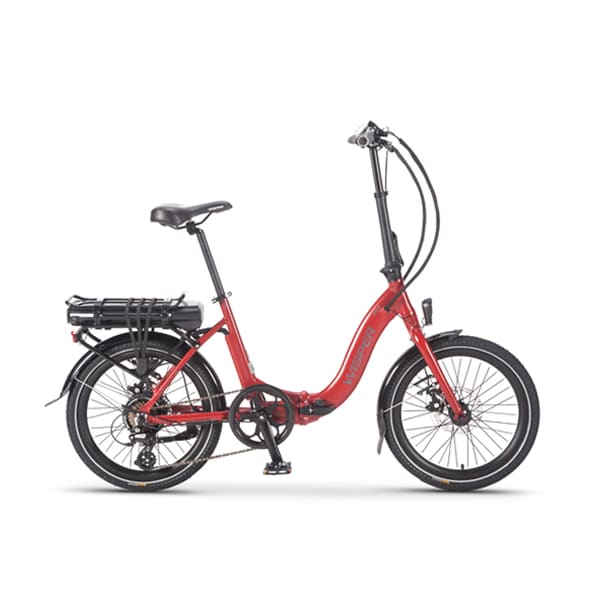 WISPER 806
FOLDING E-BIKE
The 806 is the perfect option for
explorers, commuters, caravaners or
those with restricted storage space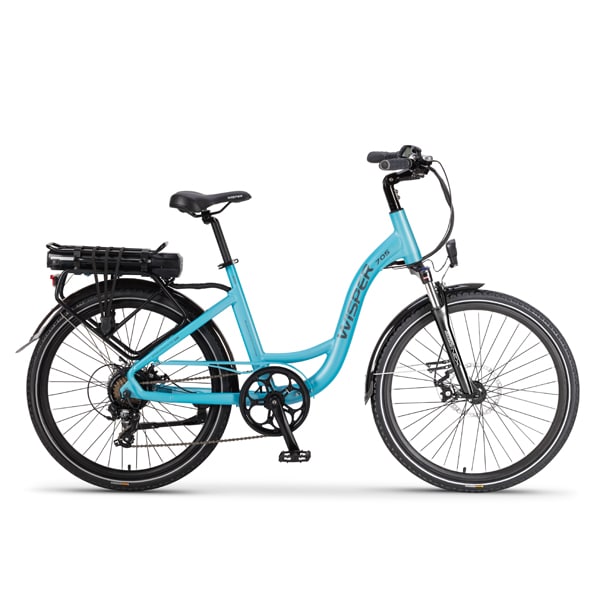 WISPER 705
STEP-THROUGH E-BIKE
The stylish, unisex 705 step-through frame provides a great ride, whether you're commuting through busy streets or exploring the countryside
OUR TRUSTPILOT REVIEWS



Quality, performance and good looks.
I like the build quality, no rattles whatsoever, the gear changes are simple and precise, the performance from the motor is excellent, when folded you won't want to carry it far but if like me you only go as far a the car boot, then fine. At the age of 71, cycling is now more fun than when I was was a teenager…. I say get a Wisper, you won't be disappointed.
Richard Miller

Great value and easy to use
My first electric bike and over the moon with it. Very easy to manoeuvre. I live at the top of a steep hill which was horrendous on my pedal bike but now feels as if i'm cycling on a flat road.
Yvonne

Great design
Great design, the flexibility available on power packs make the 806 an ideal companion to our motorhome. Great to see a British Company leading the way
Selwyn Cooper

A big thank you to Wisper bikes for…it's certainly a Wildcat
A big thank you to Wisper bikes for their excellent support in buying the exceptional Wildcat Carbon e bike. It's a dream to look at and ride.
Many thanks
Neil

Great folding E Bike, first class ride.
easy to adjust from a normal bike to the EBike with wisper. I have been highly delighted with the performance of this bike, I am 67 yrs old and found the battery assistance really helpful although I only use this function occasionally. With the additional throttle on the handlebars I can whizz up steepish hills without further injury to my joints. I have only had my Wisper bike for 3 weeks but would recommend it if you are thinking of buying an EBike. Also a big thank you to the guys in Frodsham where I purchased the bike who took the time to explain all the functions to me in detail.
Margaret Barrat

I LOVE my new bike!
Haven't cycled for years mainly because we live on a steep hill and I could't face the cycle home. Also my legs are quite weak after breaking my leg in an accident. With my new bike I raced up the hill no problem and can easily keep up with my husband! It's early days but so far I LOVE my bike! It has greatly restored my confidence, and I am looking forward to getting fitter as well as having fun!
Lynn Churches

Great bike to ride either with or without assistance
Great bike to ride either with or without assistance. The electric motor makes all the difference to enjoying cycling for someone of older years, and weaker knees than in my youth. Multiple levels of assistance mean you can choose how much help you want from the bike depending on the gradient, or how tired you are. Gear change easy, comfortable saddle, and the bike looks good.
jsinc29

Wisper 705 Torque – an excellent choice
I've moved to the Wisper 705 Torque model from a different brand. I've been riding it for about 10 days and it's been excellent in nearly every aspect. There were a few minor teething issues but all were resolved with support from my local dealer as well as from Wisper.
Queries were responded to promptly and it's a great bike.
David H

POWER YOUR ADVENTURE